Property sales enjoyed an autumn bounce in September as buyers returned to the housing market.
A total of 101,740 homes worth more than £40,000 changed hands during the month, 5% more than in August and 2.3% higher than in September 2018, according to HM Revenue & Customers.
The property market has been suffering from subdued activity in recent months as uncertainty over Brexit has caused many would-be buyers to sit on their hands.
But while property commentators welcomed the increase, they cautioned that the autumn bounce had been smaller than usual.
Gareth Lewis, commercial director of MT Finance, said: "An increase in transactions is always good news but it is only marginal as we sit, wait and hope, that something will move Brexit along, bringing some positivity into what is a suppressed and subdued housing market."
Why is this happening?
The housing market is typically quiet in July and August as people put moving on hold while they go away on holiday.
As a result, September traditionally enjoys an autumn bounce in transactions as people return to work and get on with their purchasing plans.
But with the UK still facing uncertainty over when it will exit the EU, combined with a slowing economy, the uplift in transactions has been more muted than usual.
At the same time, the fact that affordability has become stretched in many regions is also having a dampening impact on the market, leading to lower sales volumes.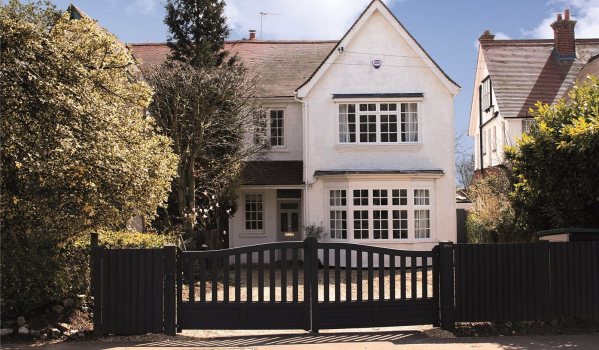 Who does it affect?
Evidence that the housing market may be picking up again is good news for anyone who wants to buy or sell a home.
A return of buyers to the market is likely to encourage more people considering trading up the ladder to put their property up for sale, increasing choice for those who want to go ahead with a purchase.
Data suggests the market is currently dominated by first-time buyers, whose numbers hit a 12-year high in August, but strong demand for properties at the lower end of the ladder should help to encourage existing homeowners to trade up.
What's the background?
While the pick-up in property sales in September is good news, the housing market still remains a long way off what was previously considered to be normal transaction levels.
Home sales for the year-to-date are also down compared with both of the previous two years.
With the exception of a brief spike in March 2016, when people rushed through purchases of second homes before the Government's stamp duty surcharge on additional properties came into force, transactions remain well below the level seen before the financial crisis struck.
More than 140,000 homes typically changed hands each month during the first half of 2007.
By contrast, property transactions have remained stubbornly close to the 100,000 a month mark since 2014.
Top 3 takeaways
Property sales enjoyed an autumn bounce in September as buyers returned to the housing market

A total of 101,740 homes worth more than £40,000 changed hands during the month, 5% more than in August and 2.3% higher than in September 2018

While property commentators welcomed the increase, they cautioned that the autumn bounce had been smaller than usual
(Source: Zoopla, 2019)